How to Register for Divergence Academy's Virtual Career Fair
Go to Accel Events to begin Registration
1. Go tohttps://www.accelevents.com/o/DauphneMaples and view active events.
2. Select the event you wish to attend and click Register.
3. Select the number of tickets you wish to acquire then click continue.
Watch the Welcome Video – Important!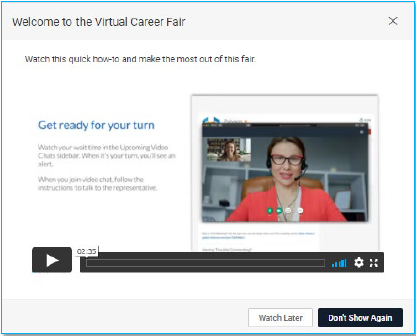 The video walks you through how to register for the fair - 'Attend' - and how to update your 'Video Chat Profile' and make sure you have a resume and profile picture for employers to see during the fair (more info on pages 5-6).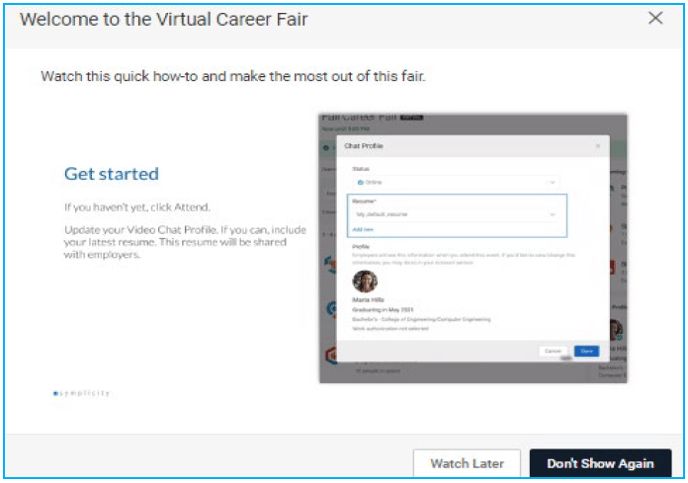 The video also shows you how to find employers who will be attending the fair and how to view more information about them.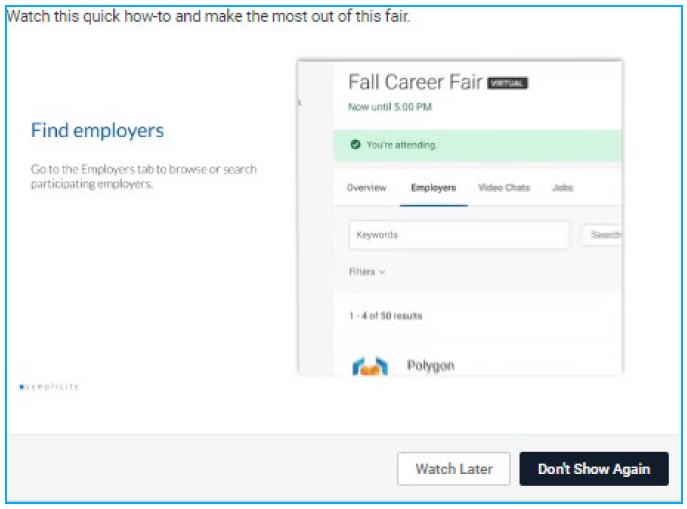 The video displays how you will join 'chat queues' during the fair to meet virtually 1-on-1 with employers during the fair in external virtual meetings. The employer's meeting link will be viewable, and the employer will contact you when it is your turn to meet.
We recommend joining more than one queue at a time to maximize your networking and interviewing during the fair, as there will be several attendees waiting in each employer queue for their turn.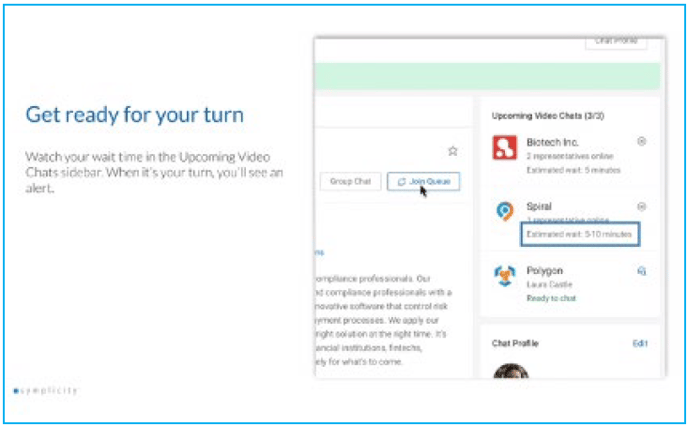 You can also attend a group video session with different employers or organizations, while you are waiting for your 1-on-1 virtual meetings to start. 'Upcoming Video Chats' sidebar will display, showing you when you will be able to join an employer's session live.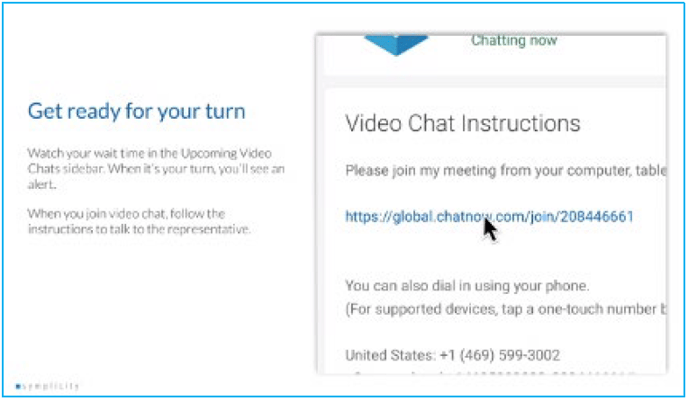 Click the link in the video chat instructions to join the live virtual employer meeting when it is your turn.
We recommend that you follow up after each employer virtual meeting session by writing notes about your conversation. You can refer to these notes after the fair and send quick thank you emails or follow up with the employer.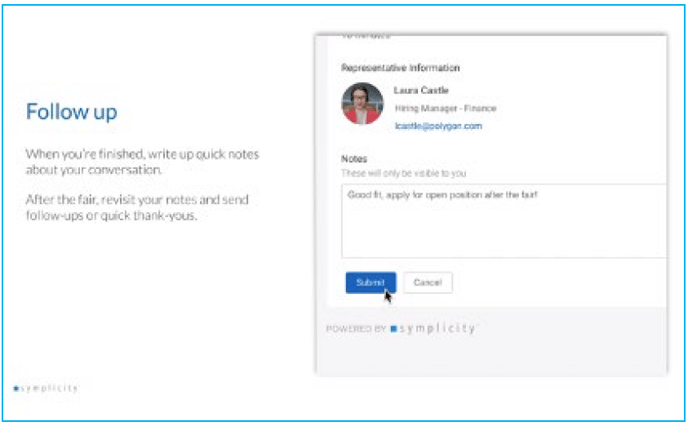 How to Register for the Virtual Career Fair
1. To register, click the black Attend button near the top right of the screen.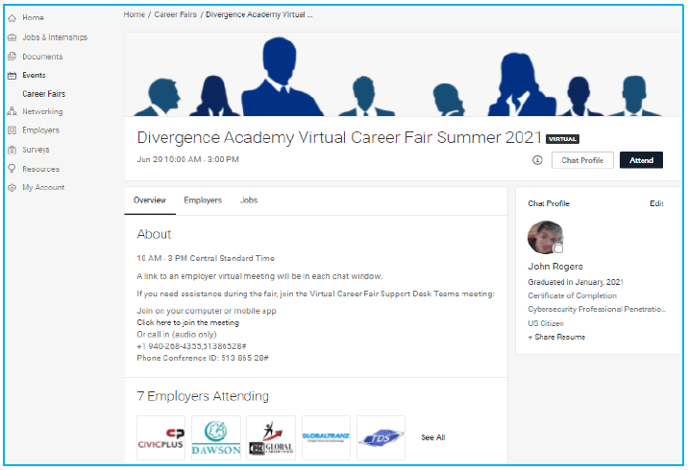 2. To setup your profile that employers will see during the fair, select the Chat Profile button near the top right after you choose Attend.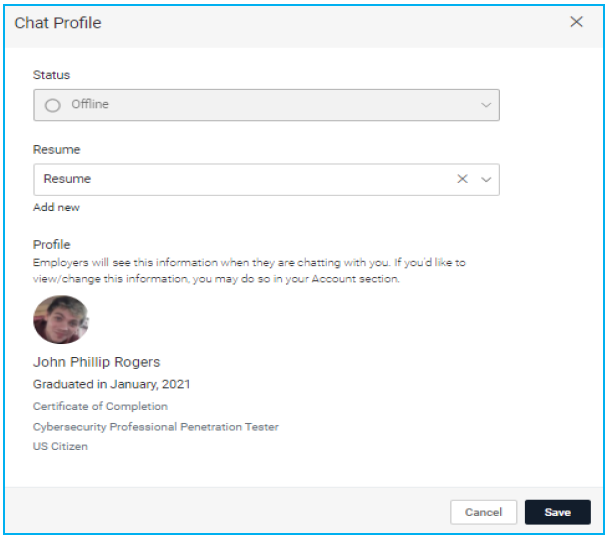 3. Make sure that you have a resume in Connections for employers to view.
If you have more than one resume in the system, choose the version you would like employers to see from the dropdown menu shown in the Chat Profile image below.
We strongly suggest having Career Services review your resume prior to the career fair.
4. To add a profile picture, go to Public Profile from the left main menu bar in Connections and choose Add Profile Photo at the top of the page to upload an image.
5. To change the information employers will see when they are chatting with you, use the left main menu bar in Connections go to My Account > Academic and edit your settings.
6. To save your Chat Profile settings, click the Save button.
7. Set your Chat Profile Status to Online on the day of the fair!
On June 29 at the start of the fair - 10 AM, or whenever you join, - sign into your Connections account and set your Chat Profile Status to Online.
This allows employers to see you and enables you to join chat queues and speak with employers and other organizations participating in the fair.
8. Do not forget to follow-up and take note during the fair.
There will be a 'Virtual Career Fair Support Desk' meeting running from 9 AM until 3:30 PM CST on June 29. Feel free to join the meeting if you need assistance at anytime before, during, or after the fair!
Join on your computer or mobile app
Click here to join the meeting
+1 940-268-4355,51386528# United States, Denton
Phone Conference ID: 513 865 28#
Please contact Director of Career Services, Dauphne Maples, at dauphne.maples@divergence.one or call 469-965-0443 or 256-479-3931 for more information about the fair or registration.
We look forward to seeing you there! 😊